SALE THROUGH 12/16
ADD ANY ITEM TO CART TO SEE THE AUTOMATIC 20% DISCOUNT APPLY.
Free Book with $100+ Purchase (Item will automatically add to cart once cart total reaches $100 before shipping and taxes are added.)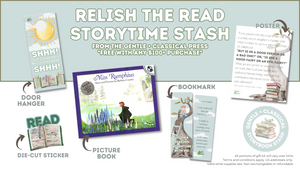 Morning Classics Imagination is HERE and ON SALE through 11/30!
This creative and imaginative volume is sure to enrapture your little ones and big ones alike! Enjoy reading Peter Pan and Mary Poppins as your try your hand at paper mache, enjoy the poetry of Phyllis Wheatley, and adventure through the imaginative worlds of Beatrix Potter.
You can now also purchase a brand new bundle of our first three issues of Morning Classics, including Pioneering, Fantasy, and Imagination.
Learn More
On Mission: Afghanistan is here!
This STUNNING issue is ready to head to your front door! A beautiful and full curriculum on its own, you can now enjoy a printed Student Notebook that adds depth, direction, and scheduling to your unit study as you explore the beautiful people and culture of Afghanistan!
Learn More
The Sequence 1 Bundle is HERE and ON SALE!
After a year of work, revision, review, and prayer, the Sequence 1 Bundle is finally here! We hope that it hits the mark for your family as you explore world and American history, US geography, English grammar, the theology of the Holy Spirit, and so much more!
Learn more and download the free teacher's guide below!
Shop Now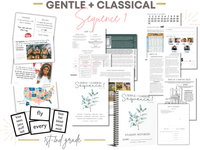 Primer Planning Grids are HERE!
Make everyday implementation of Gentle + Classical Primer a joyful breeze with these new 5-day, 36-unit grids (in print or digital)!
Learn More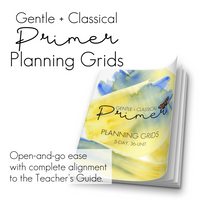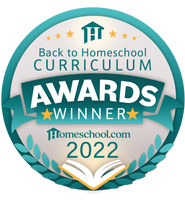 #1 Homeschool Curriculum in 7 Categories!
We are ecstatic and honored to know that the Gentle + Classical Press was nominated and WON in seven categories during the annual Back to Homeschool Curriculum Awards! GCP was voted:
#1 Preschool Curriculum (Gentle + Classical Preschool)
#1 Science Curriculum (Nature)
#1 Unit Study Curriculum (Morning Virtues)
#1 All-in-One Curriculum (Primer)
#1 Christian Curriculum (All)
#1 Social Studies Curriculum (On Mission)
#1 Geography Curriculum (On Mission)
Shop Our Award Winners
Grab our brand-new, discounted 12-issue bundle of On Mission!
Explore twelve unique, beautiful, and riveting cultures and countries from around the globe in our complete 3-year collection!
Learn More!
Gentle + Classical Nature Volume 2 is HERE!
What Customers Have to Say
What Everyone is Saying
I am using this for my 4-year-old daughter this year. She is loving the weekly topics and I love that it is laid out for me without being heavily structured.
You get weekly content to cover, it is not laid out day by day, but this way you don't have the feeling of getting behind. It has been very easy for me to work with!

Christy (Amazon)
What a fantastic program! I downloaded this to use with my younger child who is eager to join in during older sibling's school time. The information is complete, well-rounded, and age appropriate. The accompanying book list is fantastic. Best of all, the planner pages for each unit make planning a breeze, which is a huge bonus for a busy homeschooling mom! It is beautifully designed, and I would definitely recommend it to anyone in search of a classical preschool curriculum.

DW (Amazon)
This lovely curriculum has blessed our family so much, helping my young children fall in love with literature and learning while creating lifelong habits. Can't recommend it enough!

Jenny (Amazon)
LOVE this curriculum!!! It is rich with delectable information for a little to eat up + easy to follow and implement for teacher! I am jumping into the homeschool world for the first time and am so thankful for such an amazing resource to guide me along the way.

Neil (Amazon)
We LOVE this nature study! We will be using it for multiple years. If you're looking for a Charlotte Mason approach to nature study, this one gives you an overview of her ideas and how she used nature studies. It's easy to use, gentle, and has helped me to be more intentional with nature study. I also love the booklists!

Mi Casa (Amazon)
This product is wonderful. The font and layout of the book are very user friendly. It is a curriculum with options to use as is with resources to dig deeper. The author communicates from the heart with concern for you to use it in a way that blesses your family. The content is rich and comprehensive without feeling heavy. Buy it today, you won't be disappointed!

Amazon Customer
Just received On Mission: India and I'm soooo impressed!!! Thank you so much for an amazing resource!!!

Jen A.