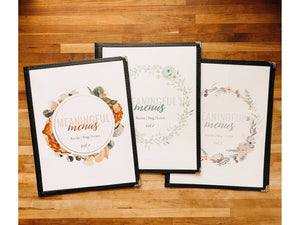 Bundle and save! Buy Christian Volumes 1, 2, and 3 together and save compared to buying them individually.
Each of these Volumes has specially selected content intended to last about a month, depending on how frequently families use them. Some families might enjoy them together daily, some weekly. Use them in a way that works best for you! This bundle of 3 volumes would be perfect for use over an entire 12 week term of lessons, or about 3 months.
Volumes do not need to be used in order - choose one that you think your family would enjoy and start there. 
Who's it for?
Meaningful Menus have been curated and designed to bring beauty into your family's daily gathering time (or morning basket time), with all ages in mind. The poetry, scripture memory, hymns, folk songs, and affirmations are encouraging and instructive to family members ages 2-102. 
What's included?
Volume 1 includes:
Christian Edition:
Charlotte Mason's Motto Christian Affirmation
Poem: A Bird Came Down the Walk by Emily Dickinson
Folk Song:

 

There is a Time
Secular Edition:

Volume 2 includes:
Christian Edition:

Charlotte Mason's Motto Affirmation
Scripture Verses: Isaiah 58:8-11 NIV
Hymn:

 

In the Garden
Poem: The Garden Year by Sara Coleridge
Folk Song: English Country Garden
Shakespeare: Sonnet 27
Secular Edition:

Volume 3 includes:
Christian Edition:
Secular Edition:
 This product is for a digital download only. Nothing will be shipped.